Bell Aliant Business Security Suite
1. Click on the Download Now button below and a browser dialog box similar to figure 1 will display.
NOTE: Before starting the download please remove any other anti-virus, anti-spyware, & firewall products from your computer.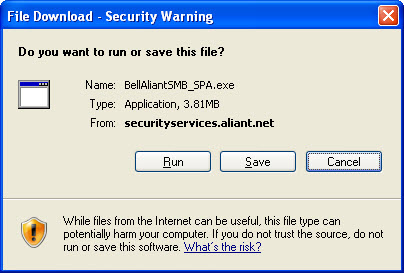 figure 1
2. Click the Open button. A temporary copy of the installation software will be downloaded. Once downloaded, the installation process will start automatically. NOTE: If you chose to click on Save instead, you will need to remember where you saved the installation software and then go and run it before proceeding.


3. Proceed by following the easy-to-use on screen instructions.
Installing Bell Aliant Servicepoint Agent
Select a language


figure 1

Click on the Ok button to continue.

Welcome


figure 2

Click on the Next button to continue.

License Agreement

You will be asked to read and accept the license agreement if you wish to use this software.


figure 3

Click on the Next button to continue.

Ready to Install


figure 4

Click on the Install button to continue.

Installing


figure 5

Complete Installation


figure 6

Click on the Finish button to continue.
Installing Bell Aliant Business Security Suite
Welcome

The install will ask you if you wish to help make the software better by providing program information back to Bell Aliant.


figure 1

Click on the Next button to continue.

License Agreement

You will be asked to read and accept the license agreement if you wish to use this software.


figure 2

Click on the Next button to continue.

Choose Install Directory

In most cases, simply choose the default directory. You may choose a different location to install the files if you wish.


figure 3

Click on the Next button to continue.

Copying Files

The progress bar will continue until it hits 100%.


figure 4

Complete Installation

Once all of the components have been installed, figure 5 displays. It is recommended that you restart you computer by leaving the "Yes" selected and clicking on Finish. The activation process in Activating Bell Aliant Security Services will not occur until your PC is restarted.

High Speed Users on Windows® XP, Please Note: During the installation process, your connection to the Internet may be dropped and an error message box displayed. This will not cause any problems with the Installation process or Operation of the Security software (it is an issue unique to XP Operating systems); you may simply select the cancel option in the error message window and continue the installation.


figure 5
Activating Bell Aliant Business Security Suite
After rebooting your PC, a few more steps are needed in order to activate your Bell Aliant Business Security Suite.

Enter the username and password exactly as they were listed in your confirmation email.


figure 1

IMPORTANT! You must connect before continuing.

If you are not connected to the internet, figure 2 will display.


figure 2

Figure 3 will display while your services are being verifed.


figure 3

The activation process is complete. You are now ready to launch Bell Aliant Security Services!

Click Continue to launch Bell Aliant Security Services.


figure 4